MONETIZE YOUR PODCAST THE RIGHT WAY!
Gone are the days of an ad campaign without a content marketing strategy.
Extinct is a blog without a social media presence.
Today's digital marketing, while still resting on a foundation of multi-channel exposure and quality content, is tied in more than ever to branding and evoking emotion.
You've got the experience and you have something to share. So why aren't you sharing it with the world? Hosting a podcast allows you to build on that experience and share it with the world.
And then you will fly...
Podcasting isn't just about stroking your own ego to hear your own voice. That's a hobby. I'm going to teach you how to be strategic about it. You'll do this by interviewing the right people, developing a platform , and you'll be increasing your authority at the same time.
Interview your DREAM 100 on your podcast
Learn how to make your podcast your lead-gen machine
Automate your interview funnel saving time
Build more profitable relationships
Let me show you how...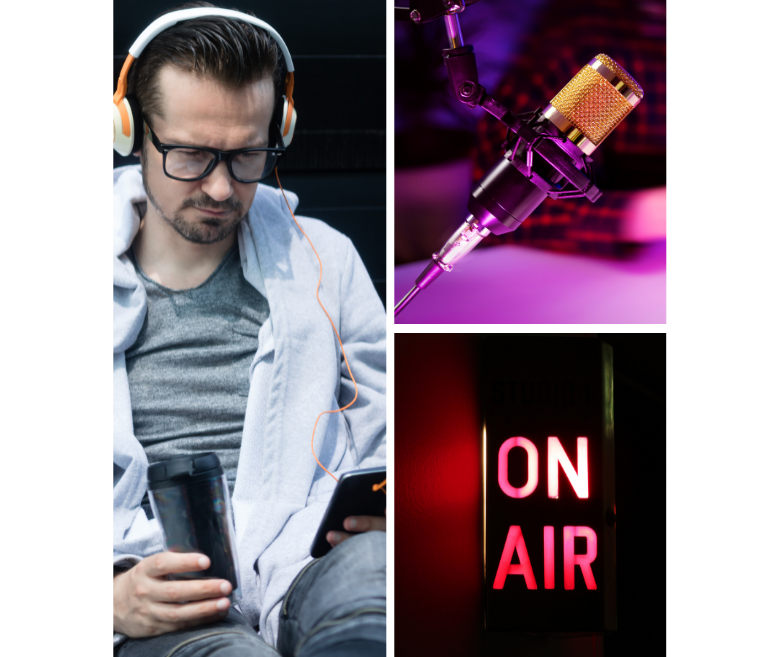 Learn how starting a podcast will grow your business by interviewing your clients and with ZERO ad spend.
The Agents of POD Accelerator is for...
Digital agencies who are looking to launch a professional quality podcast designed to position YOU as the super hero in your business by interviewing your dream clients. In our AGENTS OF POD MASTERMIND, you will learn how to:
Create an instantly recognizable brand
Learn what gear you will need to make a proper recording
Attract your dream clients to interview them, and then pitch them
Launch your podcast and gain instant traction with ZERO list and ZERO adspend
How to manage and automate most aspects of your podcast release process
Let me tell you all about it.
This will be the most hands-on coaching experience you have ever worked on. You and I will work together to not only get your podcast launched, but also implement the processes and tactics to to run it virtually on auto-pilot.
We start with an initial 2 hour VIP coaching call to work on the high-level planning of your business and to put together some targeted goals that we will use to keep you accountable.
We will then setup a project plan with timelines for getting everything ready.
You will also have 1 scheduled 60 minute one-on-one call with me every month. This will allow us to ascertain your progress through the coaching and answer any lingering questions that you may have.
You will join the Agents of POD private Facebook group where you can interact with other members in a safe area to #ringthebell with your wins and ask your most pressing questions with the group.
We also host a weekly Zoom group call where we collaborate together with other podcasting agency owners and discuss any pressing questions together as a group.
Lastly, you will have direct access to me via Facebook Messenger where you can ask me questions or get advice right away (within reasonable time frames).
In summary you will receive:
Your first 2-hour strategy call with me to get your project plan together and create a timeline for your success.
Unlimited, direct access to me via Facebook Messenger.
One scheduled 60-min one-on-one call per month to discuss progress and processes.
A weekly zoom call with other members to discuss pressing questions, wins and strategy.
Access to my private Facebook group to continue the conversations with accountability and Q&A
Is this coaching program right for you?
This group is NOT for everyone. And there are fixed number of spaces available. To qualify for membership, you must meet the following requirements:
You must be working full-time as an entrepreneur and have an established digital marketing agency.
Attending the weekly mastermind group calls must one of your highest business priorities on your weekly schedule.
Participating in a group mastermind isn't only what YOU get out of it. You must commit to contributing to the success of every other individual in the group.
Agree that all conversations shared within the mastermind (wins, losses, challenges, etc) are to be kept strictly confidential and not be shared with anyone outside the group.
Ready to get started?
If you're ready to take on this commitment to your success and are ready to level up your business, then please apply by clicking below.
Please note that I do not accept just anyone into this mastermind. You must be motivated to succeed, willing to think 'out of the box' and commit your attention and skills to make this work for you.
Currently, I only have room for 7 more spots in this exclusive private coaching program. After that, I close it off and you'll have to wait for the next round of openings.