MONETIZE YOUR PODCAST THE RIGHT WAY!
Gone are the days of an ad campaign without a content marketing strategy.
Extinct is a blog without a social media presence.
Today's digital marketing, while still resting on a foundation of multi-channel exposure and quality content, is tied in more than ever to branding and evoking emotion.
You've got the experience and you have something to share. So why aren't you sharing it with the world? Hosting a podcast allows you to build on that experience and share it with the world.
And then you will fly...
Podcasting isn't just about stroking your own ego to hear your own voice. That's a hobby. I'm going to teach you how to be strategic about it. You'll do this by interviewing the right people, developing a platform , and you'll be increasing your authority at the same time.
Interview your DREAM 100 on your podcast
Learn how to make your podcast your lead-gen machine
Automate your interview funnel saving time
Build more profitable relationships
Let me show you how...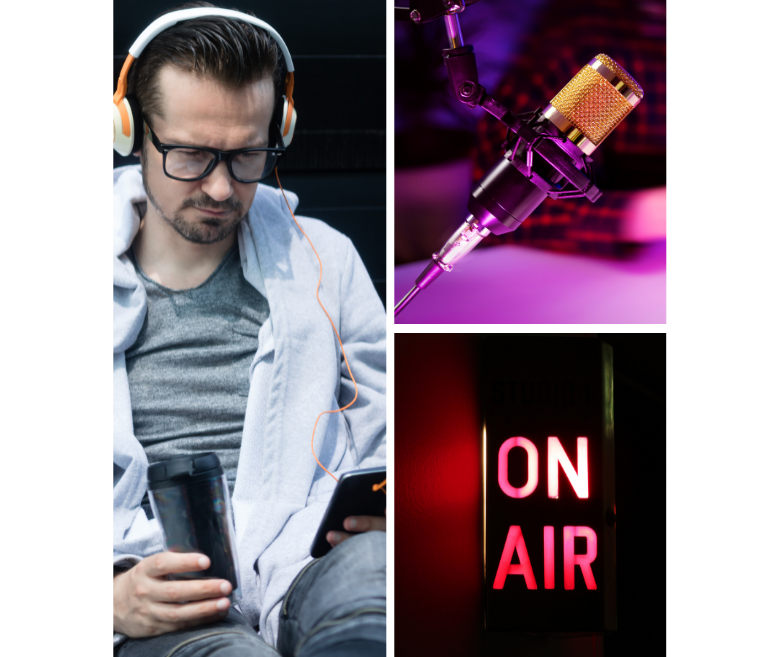 PRIVATE 1:1 PODCAST COACHING
In this exclusive 1:1 coaching program: I will teach you how to monetize your podcast the right way and close more sales.
In this program, I'm going to help you create a podcast that will position you as the expert and provide a warm transfer process from thought leader to service provider. To that end, we're going to focus on the following:
Getting your podcast up and running as fast as possible (imperfect action done quickly)
The exact process that I use to source, screen, and interview podcast guests
Utilizing your time with the guest post-call to soft-pitch your product/service and schedule a follow-up.
I am also going to show you the systems and processes that I use to manage the entire process from start to finish. This way, you'll be spending more time prospecting and interviewing your dream clients and automating the steps necessary to produce your podcast.
This program is all about taking immediate action. Feel free to get started right away.
Therefore, it's important that you don't need to wait for me to tell you to take immediate action. So be sure to allocate enough priority time in your day to make progress.
Coaching Schedule
We start with an initial 2 hour VIP coaching call to work on the high-level planning of your business and to put together some targeted goals that we will use to keep you accountable.
We will then set up a project plan with timelines for getting everything ready.
You will also have 1 scheduled 60-minute one-on-one call with me every week for 6 weeks. This will allow us to ascertain your progress through the coaching and answer any lingering questions that you may have.
You will also get direct access to me via Facebook Messenger where you can ask me questions or get advice right away (within reasonable time frames).
Week 1 - Groundwork and goals
Goals review and action plan preparation
Assets review - website, hardware, software, software skill level, etc.
Podcast show format
Define ideal client profile
Where to get guests: Linkedin / Facebook Posts, Podcast Agencies Podcast Directories
Minimum apps to get: Calendly / Zapier, etc
Week 2 - Set up infrastructure, podcast links, and profiles
Anatomy of your podcast recording call
Pre-call - Introduce yourself and set expectations
Episode recording - record the actual interview
Post-call - debrief, talk about challenges, pitch for a follow-up conversation.
Create intros and outros (i.e. calls to action)
Set up your automation system
Week 3 - Review recordings, publish, and systemize
Automating your pre and post-call emails with Active Campaign and Zapier.
Identifying tasks that can be automated and/or delegated to someone else.
Editing your podcast
Week 4 - Website, presentation, and sales funnel basics
Creating a home base for your offer, and your podcast.
Website and podcast analytics
Resource page - Getting paid to recommend products and services.
Booking sales calls
Week 5 - Growth hack your podcast to get more listeners
Creating social media assets, email newsletters, and notifications.
Tactics for getting your guests to promote episodes that they appeared on with you.
Guest followups
Pre-qualifying guests as potential clients.
Week 6 - Scaling up and beyond
Running ads inside podcast apps
Memberships
Sponsorship building